My Anhedonia Success Story
Dear friends – I hid from all of you a year and a half ago, and now I'm back to tell you the unbelievable story of what happened. I have been forever changed by this chain of events, and have learned things that will add to my Appreciative Living work in some very good and important ways.
I don't even know how to begin telling you what happened. You will find it hard to believe. I still find it hard to believe.
It all began in March 2013, which was 3 months after we moved and 3 months after my ailing father had passed away. I loved my new home and had made peace with my father's passing. I was very happy and excited to start a new life in our new city.
Things took a bit of a surprising turn when my dermatologist found melanoma on my leg, but she caught it early and removed it with no problem. I came home and celebrated St. Patrick's Day with my visiting in-laws and had a great time.
And then my whole life fell apart.
The surgery site on my leg began to swell and turn red, and was clearly infected. My doctor started me on oral antibiotics and switched to stronger ones when the infection did not respond. I then began visiting my doctor daily for even stronger antibiotic injections, but the infection continued to grow until I was finally admitted to the hospital.
The doctors could not identify what was causing the infection, so they started me on the strongest IV antibiotics they had 24/7. I was told I could lose my leg if the infection did not respond, or that I could die. I laid there for a week with antibiotics coursing through my body until the infection started to respond and I was allowed to go home.
The strangest and most disturbing part of the whole ordeal wasn't that I would die or loose my leg. It was that I didn't care if I lived or died or lost my leg. In fact, I didn't care about anything.
I laid there for 7 days sleeping and staring at the ceiling. I didn't read the books I brought, never opened my computer, didn't check my email, and didn't even watch TV. I just laid there.
The infection started responding after a week and I went home to 4 weeks of bed rest and IV antibiotics administered at home. I'll never forget the first night coming home to my husband and two kids.
It was a Normal Rockwell moment on the beautiful back patio of our new home. My husband Jon was grilling steaks and I had a nice glass of wine in my hands for the first time in 2 weeks. My daughter and son were sitting with me, and I paused to realize this is one of those moments in time you always remember. But not in the way I had hoped.
I started sobbing and hobbled into the house with my walker. It wasn't because I was touched by the moment, it was because I couldn't feel the moment. I could not feel the closeness with my family. I did not feel happy to be home. I didn't care if I ate steak or hospital food. Nothing mattered. I felt completely flat as I had throughout my entire hospital stay.
But then again I could feel. I could feel sadness. It seems I could feel negative emotions but not positive ones. Something terrible had gone wrong and I had no idea what it was.
My husband came in after me and asked what was wrong. I hesitated, and told him that I didn't want to live anymore. I had been laying in the hospital for a week and lost all interest in life.
He knew I was serious. I wonder to this day how he could be so understanding of what I was going through. He said the perfect thing I needed to hear which may sound disturbing, but it was, "You don't have to stay here for me and the kids. We will be ok."
In all my life I always wondered how anyone with children, especially a mother like me, could ever be so selfish as to end her life and do that to her kids. Now I understand. I had no intentions of acting on it, but I wished I could just magically evaporate and cease to exist.
He went back outside and I stayed in and cried for what seemed like an eternity. I thought to myself, "What in the world is going on? Two weeks ago I was one of the happiest people I knew. I had written two books and helped thousands of people get happier. And here I was, so low and desperate I wanted to end it all.
My flat life caused me to go into depression which continued for months. I didn't read, lost all interest in my business, rarely watched TV, and would talk to people if they started the conversation. My mind was blank. I couldn't make sense of what was happening, and didn't care that I couldn't make sense of it.
I basically took care of my kids and the house and tried to just get through each day. I stopped buying flowers because I could not feel their beauty and it made me cry. I stopped listening to music because I was completely unmoved by it, and had no interest anyhow. I had already cancelled all my business engagements with the move and surgery, so luckliy nothing was pending.
It was bad enough I had lost all joy, but was even worse because I felt like a fraud. Here I was, "The Joy Engineer" of all things, who could not feel joy! It was the ultimate irony. Really, you can't make this stuff up. How in the world could I lead a workshop or write an article, or tell anyone how to find joy when I was in the depths of despair?
Several more flat months went by. I decided to try and do a few of the core appreciative exercises I had done for years that worked for me and thousands of others to get happier. I attempted the classic gratitude list but could not feel the emotion of gratitude, and it actually made me feel worse. I tried to visualize my ideal future, but I couldn't. I didn't want or care about anything now or in the future.
It was like a switch went off. I was this joyful happiness expert one day, and then suddenly my life was completely flat and meaningless.  The switch was triggered by massive antibiotics. Somehow they had wiped out my ability to feel positive emotion and I was terrified I would never get it back.
After 8 months I found out that what I had was called anhedonia, and is a side effect of various medications. Some people get it for short periods of time, and some have it for years with no seeming ability to get rid of it.
To summarize what happened next, (You can read the details of my journey by clicking on the "Home Page" tab above) I began researching what is known about anhedonia and made some diet and supplement changes. I then created targeted exercises from my Appreciative Living work that stimulated the areas of the brain affected. I was finally able to overcome it, and used Appreciative Living to get my happiness fully back.
It was a little over a year from the day I got anhedonia that I was finally able to feel positive emotion again. I can't tell you how grateful I am now that I can feel grateful! It was the craziest thing, but I learned so much.
It allowed me to go back into depths of despair I had not known in years, and be like a researcher studying the positive emotions as they returned. It was fascinating to see which emotions came back first, and in what order.
And now that I am fully back and happier than I was even before the anhedonia, I have so much to share with you!
First, I created a separate website devoted just to helping people overcome anhedonia, which is where this page is posted. I still have my Appreciative Living website which I'll be updating soon. I wanted you to be able to check out this new one easily and learn more about anhedonia if you're interested. You'll see tabs at the top for a host of things, including a new Natural Treatment Program I have. If you know anyone with anhedonia, please let him or her know.
I'm also getting ready to release an Appreciative Living home study course which I'll be announcing in early December. This work has now saved me twice, and I'm more passionate than ever about getting it out into the world!
Finally, I want to thank all of you for hanging in there while I hid from sight. I now understand happiness to a depth I never thought possible. It really, really, really is the small things. It's being able to appreciate the beauty of a sunset, the tenderness of a child's touch, the warmth of your cat next to you, the magnificence of the ocean, the love of your partner.
Without being able to appreciate these small moments, there can be no joy. Happiness has nothing to do with success or material things, as much as we like to think that. Believe me, I know.
Ironically I've come full circle, and to find appreciation again and know it for the first time. It turns out that it is truly at the heart of happiness. Thank goodness – I can keep the name Appreciative Living, and it has more meaning than ever.
To our joy! – Jackie
PS -I have a comment section below and would love to hear from you about any and everything! It's so great to be back my friends!
Send Me My Free Flatlining (Anhedonia) Package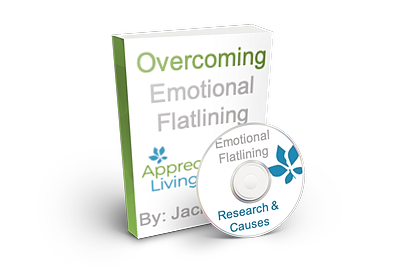 Research & Causes
Checklist & Info Emails
Brain Training Exercise
Jackie's Success Story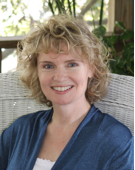 Jackie Kelm
The "Joy Engineer"